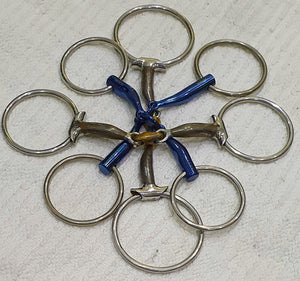 Fager. Just a little different!
The philosophy of the Fager brand is to take away thick and heavy bits and replace with a lighter ergonomically designed option that takes up much less space in the mouth.  Fager bits are built around a range of unique mouthpieces and ring types, with each bit being designed with a specific horse in mind.
Fager bits focus on the pressure points within the mouth, with the objective of providing the most comfortable bitting solution for the horse.
We expect so much more from our horses today.  We want them lighter, more responsive and we seek a greater degree of precision and a faster response to our aids. The breeding of our horses has also changed with sport horses often now having a higher degree of sensitivity and a greater degree of refinement to enable them to perform at the elite level we strive for.
Pressure points
There will always be pressure from the bit in the horse's mouth, that's the way the control function works.  With many pressure points within a horse's mouth and head, the bit and also the bridle, needs to act as a "complete solution" and it's always important to remember that if you take pressure from one point it will just get transferred to somewhere else.  The Fager principle looks at pressure in a refined and focused way, and the range is built around the "type" of horse to ensure these pressure points are applied at the most appropriate position for that particular horse. 
Design
All Fager bits are lighter and slimmer, taking up much less space in the mouth. For many years we were told thinner bits were sharper and more severe, due to the pressure on a smaller surface. Fager takes the opposite approach with thinner bars and joints to give
more freedom inside the mouth without locking the tongue. The thicker bit will also sit "higher" in the mouth meaning the upper bar will press on the bit ad subsequently the lower bar giving much more unnecessary pressure than a thinner bit - even before a contact is taken up!
Another interesting design focus is the centrepiece of the bit usually a lozenge, link or roller.  A long centrepiece can cause damage to the bars and palate due to the bit not fitting well within the space it is positioned.  This is even more prevalent when the bit is too large for the horse and not fitted correctly.  In fact it is common to cause damage to the bars and palate due to long centre pieces and / or an incorrectly fitted bit.
Sweet iron v titanium
Sweet iron isn't new… it's a regular choice mouthpiece for a metal bit for a number of premium and mainstream brands. The iron coating of a sweet iron bit is warm within the horse's mouth and oxidises when it comes in to contact with the moisture in the horse's mouth, causing it to "rust".  This oxidisation is completely normal for a sweet iron bit, and only when this has happened does the bit start to taste pleasant in the horse's mouth. 
The other material and perhaps the one that everyone is talking about when it comes to Fager bits is titanium. It's a super lightweight surgical grade titanium and it tastes of....  well.... nothing! Titanium will never rust or wear and is extremely strong.  It is also exceptionally light weight for its composition, passing on that remarkable property to all bits within the collection. Fager titanium bits have a blue coating, which will show scratches with bite / teeth marks.  This coating doesn't affect the bit in any way and the titanium underneath will not mark or scratch. 
So many names
Each Fager bit is fundamentally defined by its mouthpiece first.  Each mouthpiece has a name…  a persons name!  There are many…  both male and female, and common "models" to look out for are "Carl", "Julia", "Sally", "Alexander" and "Bianca".  These names refer JUST to the mouthpiece so in essence there will be a number of bits with the same name covering different rings / cheeks.  Loose ring, fixed ring, winged, pelham, kimblewick, kimblehook and Icelandic to name but a few. 
A word about fitting….
As with most premium ranges, the Fager collection all poses Fager branding 
and size details on the mouthpiece.  There will always be a "horse logo" on the end cap of the mouthpiece, which should always be on your horse right side, running forward - FAGER in front (there is an exception to this rule, but we can discuss specific bits in a later blog). 
Sizes
Fager bits don't have quite the same flexibility in their sizing as other premium brands.  Each model has length increments of 10mm between each size – 105mm, 115mm, 125mm, 13mm and 145mm – which is less size variation compared to imperial measurements for many other brands that have ¼ inch increments in many cases.  The mouthpiece and ring thickness is also based on the length of the bit, rather than being a specific option to choose regardless of bit side.  That said, there is an immense range of models (mouthpiece) and ring types meaning that Fager slots in as one of the most comprehensive bit range on the market today. 
If you knew nothing about Fager before now, I hope this has given you a starter in to this exciting young brand.  And if you are fully aware of the brand and own a number of their models I would love to hear your experiences, and in particular how the titanium bits compare to more traditional materials.  One thing is for certain though, it's a brand with a purpose and is growing its coverage on a continual basis.  There is an ever growing number of retail outlets for new Fager bits, and selected bits are now starting to pop up more frequently on the second hand market.  That said, pre-owned Fagers are still quite difficult to source, in my opinion, because people buy them and usually want to keep them! 
To view my current stock range of Fager bits please use the link below.  Or if there is a model that you would like but isn't listed on my site, please let me know as I will try my best to source it for you. 
https://secondhandhorsebits.com/collections/fager
And of course, any queries or comments always greatly received x x 
---